Blends & Brews Coffee Shoppe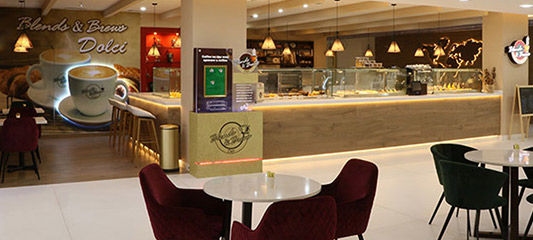 Blends & Brews Coffee Shoppe: Driven by an inspired team of coffee specialists, we believe in values, innovation and customer satisfaction. Every cup of coffee is brewed with a lot of passion and love to get paid by the satisfying smile of our valued customers and not just the money. Blends & Brews has got its own blends like Exquisite Espresso Blends,Tropical Gold,Blenders Sparkle.A blend of carefully nurtured high shade grown Arabica and Robusta beans that give you unique flavor notes in a cup, rich flavor and aromatic aroma. Our Espresso Blend is a distinct and skillfully blended coffee, guaranteed to provide you with a unique flavor, which is good, to the last drop. Hazelnut crema, strong texture, chocolate flavor with a creamy mouth feel are the highlights of this
Body & Soul Health Club & Spa
Body & Soul Health Club & Spa: Body and Soul presently have five outlets in the UAE, including 'ELITE' and 'LADIES ONLY' clubs, offering extensive sports, recreation, fitness, health, social and youth programs. Body & Soul's facilities, infrastructure and operating standards are at par with the international standards of health clubs. All classes and workouts are supervised by highly trained, certified instructors. Operated by the Hospitality Division of Thumbay Group, the brand is all set for a massive expansion which will see an addition of 100 new family-centered health clubs worldwide by 2022, in accordance with the group's strategic plans.
Terrace Restaurant (Thumbay Food Court)
The Terrace Restaurant: Established as an Indian – Arabic multi-cuisine restaurant in 2010, next to the Gulf Medical University in Al Jurf – Ajman, this HACCP certified restaurant has emerged as a hotspot of formal and casual dining for people from Ajman and beyond.
Other Facilities
• Thumbay Housing Project
• Theatre
• Free Parking
• Public Bus Station
• Supermarket
• ATM
• Swimming Pool
• Therapeutic Garden
• Basketball Court
• Tennis Court